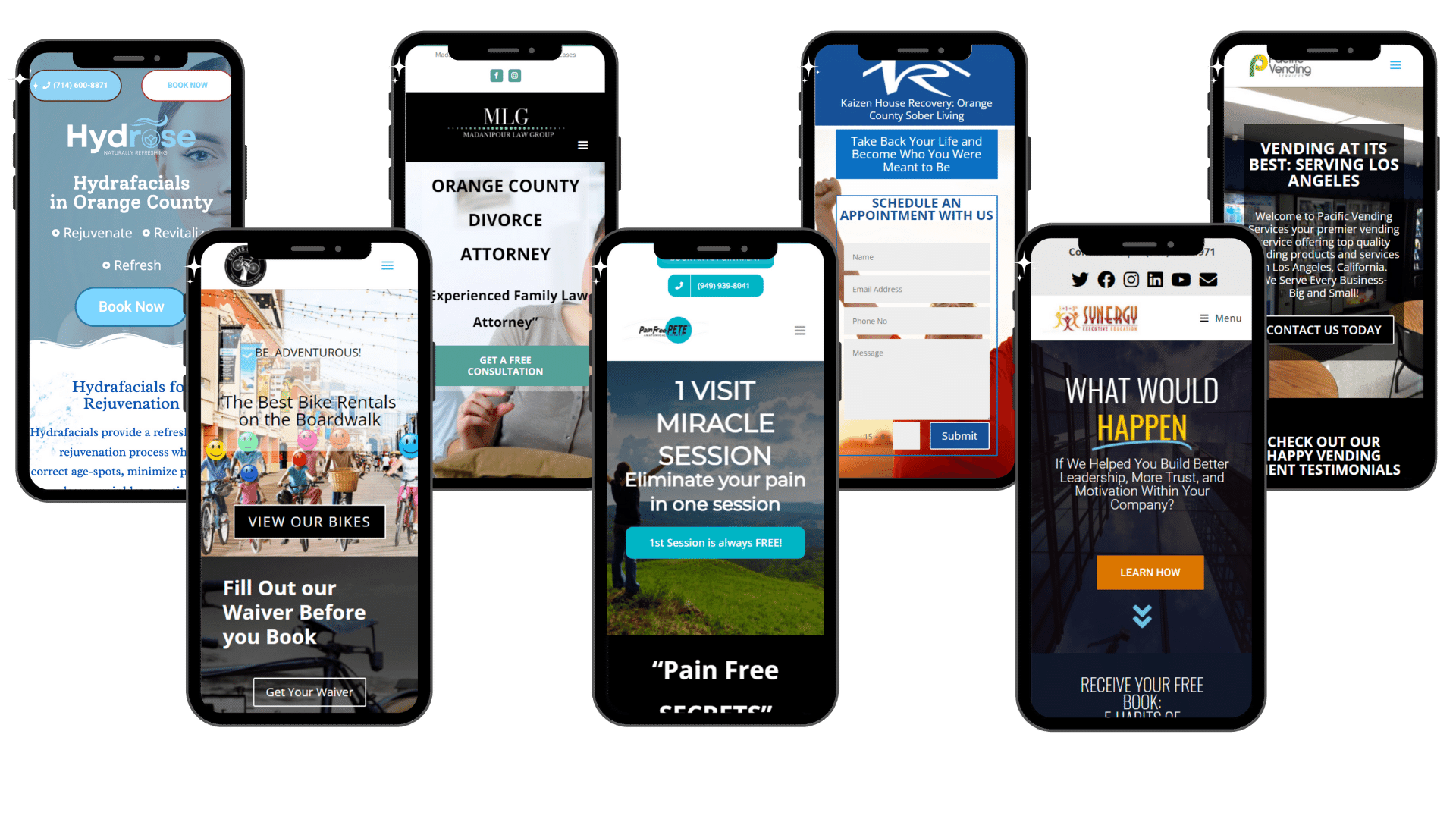 We Help Grow
Service-Based
Businesses
We create designs that deliver. You get gorgeous WordPress websites that make viewers into customers.
We build ads that acquire leads. You get enterprise-level advertising techniques that get you more traffic and customers.
We do social media designs and management that set you apart from your competitors, and we include free consultation during your campaign.
We have gotten exceptional results for these industries:
Car wrapping [website, seo]

Niche facials or massage [landing page, website, seo, ppc, branding materials]

Vending service [website, seo, ppc]

Divorce law

[social media]

Coach [website, branding materials]

Business consultant [website, branding materials]

Various small businesses [onsite video production- local OC/LA clients only]

Sober livings [we accept non California clients only for this- website/seo]]

Recoveries [website maintenance]

Music teacher [social media]
Over the recent years social media advertising has become more prevalent than ever and with the help from MoveUp Marketing Group, they have allowed companies to create a strong social media presence and excel their internet marketing vastly. If you are looking for quick results for online marketing, they are definitely the agency to go to! With the help from their professional and friendly staff, I would recommend their services to any company or business!
M.O.V.E. UP Marketing took my vision and made it so much more than I ever dreamed possible. Many new opertunities have opened up for us with the new website. Thank you Linda!
Linda at Move Up Marketing is one of kind. I have never dealt with anyone as nice and as professional as she has been. We have searched for years for SEO help with one disappointment after another and I can honestly say we have finally found the real deal with her. If you need any kind of SEO/PPC or web-design assistance give her a call immediately. Move Up Marketing is a one stop shop and trust me when I tell say you will never need to look for help for any website assistance again! John T.
we are a local Orange County, CA company but we serve clients all over the US
23152 Verdugo
Dr #190a, Laguna Hills,
CA 92653, United States